Your membership helps save wildlife and wild places.
Membership at The Living Desert is a great way to show your support and receive great benefits like free daytime admission for a year, access to fun events, awesome benefits and discounts, and more.
As a 501(c)3 non-profit organization, The LIving Desert relies on the generosity and support of our members. Your membership supports our excellent animal care, local and global wildlife conservation initiatives, and our innovative and engaging education programs.
Benefits of
Membership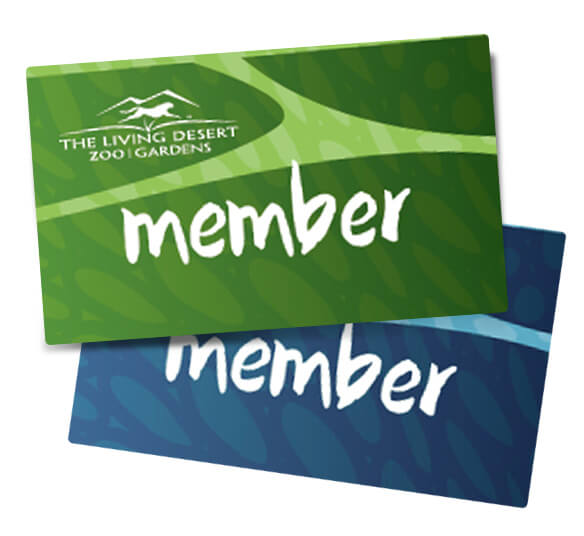 All members of The Living Desert receive the following benefits included in their membership:
- Unlimited daytime admission for a full 12 months
- Exclusive discounts for select special events, experiences, tours, camps, and programs
- Get exclusive discounts on additional tickets for your guests! (Valid only for adult tickets with daytime admission. Available all year!)
- 10% discount at the cafes, restaurants, and the Appel Gift Shop
- Invitations to members only events
- foxpaws magazine subscription (3 issues per year)
- Discounts on programs, classes, trips, events and volunteer opportunities
- Free or reduced admission to more than 150+ AZA-Accredited parter zoos, aquariums, gardens and arboretums throughout the United States and Canada. Click here for the full list.
All memberships require adults to be named individuals and a valid photo ID is required for admittance.
Membership Levels



Guardian Society Membership




Membership Frequently Asked Questions
How can I purchase a membership?
There are several ways to purchase a membership:
1. For the fastest service, join online now!
2. On your next visit to The Living Desert, stop by the Admissions window to join in person
3. Give us a call in the Membership office at (760) 346-5694 ext 2134
How do I use my membership discount benefits?
When you arrive at the park, proceed straight to the entrance and present your membership card and photo ID for zoo admission. Throughout the park, you can show your membership card for discounts at various locations including the gift shop, giraffe feeding, Kookaburra Cafe, Churro Stop, Thorn Tree Grill, Safari Soft Serve, and Crash Cafe.
To activate your member discount on special event tickets, call (760) 346-5694 or, when booking online, select the "Member Tickets" option on the event page and enter your Membership ID number. For private tours, the tour request form will allow you to specify that you are a member so that you can receive your discount
Can I give my guest passes away, or do I need to be present with my guest?
Guest passes are automatically loaded onto your membership card and will be deducted as you bring guests. If you would like them printed to give away, we would be happy to assist you at the membership window.
(Available for Guardian Society memberships only.)
Is The Living Desert membership based on the calendar year?
Your annual membership is valid for one year from the date of purchase, so you receive a full 12 months of Zoo and Garden fun!
What if my membership card is lost or stolen?
You can order a replacement card by contacting the Guest Services office at (760) 346‑5694 ext 2134 or email membership@LivingDesert.org. You can also request a replacement card at the membership window. Additional cards are subject to a $5 replacement fee.
Is my membership at The Living Desert good for other zoos, aquariums, gardens and arboreta?
Yes! For a list of over 150 zoos, aquariums, gardens, and arboreta that offer discounted or free admission to The Living Desert members, click here.
Can a friend or family member use my membership card?
No. Memberships are nontransferable and are valid only for the person (or persons) named on the card. 
If the other named adult on my card is unable to come with me, may I bring a guest in their place?
No, but you may purchase a guest pass at a discounted rate.
Is my membership payment tax-deductible?
A portion of your Guardian Society membership payment is tax-deductible, as allowed by law.
Please note this applies to Guardian Society members only.
Do members need to reserve tickets?
No, members no longer need to reserve tickets for specific times. All members can come up to the Zoo and check in with their membership card like normal.